Forza 2 Demo Information
Xbox 360
6th May 2007, 9:05am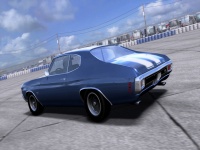 In the most recent Pit Pass Report at the official Forza Website, Che Chou had this to say:
"Sorry, there's no demo this Friday. The demo is still going through the certification process so things are still up in the air.
Apologies all around for leaving you guys hanging. I know anticipation around this game and its demo is at an all-time high, but our (Turn 10's) hands are tied here.
Seriously, as soon as I know something, I'll make an announcement here.
Thanks."
It seems the certification is taking a little while longer than they were expecting. Perhaps the certification people are too busy playing it. If all goes to plan, we hope to see the demo on the marketplace this coming week, and we'll let you know as soon as it comes out.
They've also released the final version of the Intro movie, in response to some dodgy versions floating around the net.
Download Forza 2 official intro movie (40mb WMV)
Forza 2 is due out on the 8th of June in Europe, but is expected to arrive in Australia a few days later on the 14th.