Game Releases for Week Ending 17/2/06
19th February 2006, 9:20pm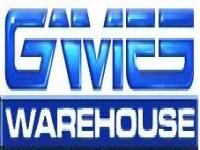 Not cooler than watching Ari finally die in NCIS, it's the
Games Warehouse
releases for another week!
PC:
The Settlers 5: Heritage of Kings - Legends Expansion
The second official expansion disc for The Settlers 5!
Earth 2160
Earth 2160 sees conflict arise as the remnants of the Eurasian Dynasty, Lunar Corporation and United Civilized States terraform Mars following Earth's destruction.
Rome Total War: Gold Edition
Rome Total War, and its expansion pack Rome Total War: Barbarian Invasion. Create, rule, conquer and manipulate the Roman Republic and Empire to become the "Imperator" of Rome in this award-winning game from the highly-acclaimed Total War series. The expansion moves the action on 350 years to a time when the Roman Empire is in deep trouble, beset by enemies inside and out, and possibly even dying.
Rainbow Six: Lockdown
In the near future, a global terrorist network threatens to strike with a terrifying nanotech virus - but the target is uncertain. Rainbow, an international elite counter-terrorism unit is spearheading a new war on terror. They are the only one who can save millions of innocent lives threaten by radical terrorists.
Star Wars: Empire at War
Set a few years before the events of Episode IV A New Hope, the game will let players rewrite history as well as experience the aftermath of Star Wars: Episode III Revenge of the Sith, the creation of the Rebel Alliance, and Darth Vader's rise to power.
Empire Earth 2: The Art of Supremacy
The epic conquest of history lives on in the official expansion pack for Empire Earth II. The Borders Have Been Redrawn! Your epic conquest continues with four new civilizations under your command: the French, the Russians, and the Zulu and Maasai of the all-new African region.
Chrome SpecForce
Chrome Specforce is for every shooter fan, packed with unlimited action and a diverse range of vehicles and weapons, appealing for both lone and online gaming. Get ready for the special force operatives of the future.
PS2:
Jacked
Jacked is more than a simple racing game; it's a high-octane battle for survival that will push you to the edge. Jump on your motorbike and prepare for the rush as you race against mad bikers through city streets, urban wastelands and mountain peaked highways in the ultimate game of motorcycle combat. Also available on
Xbox
.
Urban Reign
From the makers of Soulcalibur and Tekken comes the next level in fighting action -- Urban Reign. Urban Reign brings the fight back to the streets, are you down to control your hood?
Dynasty Warriors 5: Xtreme Legends
The action stays hot and never gets sour with a banquet of 18 all-new maps and untold stories, 5 sizzling modes, and so much more! This is a game that expands on everything that made Dynasty Warriors 5 such a success.
Devil Kings
Devil Kings is a fast-paced action game set against a backdrop of a warring nation as feudal lords battle for land and power. In Devil Kings, players assume the role of various warriors who must lead their hero into a succession of hostile confrontations against an onslaught of opponents.
Shadow of the Colossus
A cursed boy, lost in a place of shadows. A young girl, consumed by sorrow and loneliness. Together they must find a way to escape. But their prison is vast and holds many secrets. Every twisting staircase, creaking door and towering pillar is part of a larger puzzle. Each torch and shaft of light only serves to illuminate another mystery. Their path is dark and treacherous. But somehow, they know they will find a way out, a way back to the light.
DT Racer
DT Racer is an extreme no holds barred demolition racer. In order to be the best, you must possess not only racing skill, but also a fearless attitude in an anything goes racing environment. Your opponents will challenge you in an attempt to not only take you out of the race, but to take you down in a blaze of glory.
Xbox:
Rugby 2006
Taste the tension and take the big hits as EA SPORTS Rugby 06 slams you back into the scrum for the most realistic and intense rugby experience yet!
MotoGP: Ultimate Racing Technology 2
The fastest, most advanced form of motorcycle racing is back and better than ever in MotoGP 2. Race against the top twenty riders in the world at speeds of 180mph around turns and corners with your knee inches from the ground . Compete on the most beautiful tracks and in all weather conditions throughout the Moto GP series.
Gamecube:
Battalion Wars
Battalion Wars is set in the 21st century where a minor border dispute between the Western Frontier and the Tundran territories has escalated into an all out war. Exhausted by the fighting the two armies reach a stale mate, until the despotic ruler of a nearby country, Kaiser Vlad, seeks to use this situation to conquer both countries.
GBA:
Whac-A-Mole
Those lovable moles are popping up faster and more furiously than ever. Whac-a-Mole lets you test your reflexes as you whack pesky moles as they pop in and out of their holes. Also available on
Nintendo DS
.
Nintendo DS:
Nintendo Touch Golf Birdie Challenge
Experience the feel and finesse of real golf on beautiful 3-D courses with Touch Golf. In this dual-screened Nintendo DS golf game, using the touch screen and the stylus is almost like swinging a golf club in real life. The longer players slide a stylus across the touch screen, the harder they smack the ball.
PSP:
Breath of Fire 3
A small boy on the run... a dragon reborn in flames... The legendary RPG series Breath of Fire comes to PSP with tales of long forgotten worlds, intrepid heroes and ancient, mystical powers. A destiny awaits you...
Gibbs will never get over it. I mean... that's all folks.