Guitar Hero IV Named, Detailed
Xbox 360, PS3, Wii
23rd May 2008, 10:36am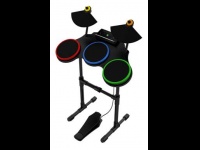 Everyone calling it Guitar Hero IV: just stop. Now. Guitar Hero IV has a fancy pants new name: Guitar Hero World Tour.
Activision have released a press statement concerning the next game in the franchise, one that essentially confirms everything that's been said about the game up to this point. The game will include a new guitar, a drum set (check out the media) and a microphone. Get this: the Wii is also getting downloadable content! Omgwtf!
"Guitar Hero World Tour delivers more ways to play than ever before. Virtual musicians can live out their rock and roll fantasies by playing either a single instrument, or any combination of instruments, in addition to the full band experience. In addition to all of the online gameplay modes from Guitar Hero(r) III: Legends of Rock, Guitar Hero World Tour introduces Battle of the Bands mode which allows eight players to join online and challenge each other band-to-band to determine who is the best of the best. In the Band modes, up to four players can jam together, online or off, as they progress through the game, and in single-player Career Mode, players can jam on any of the instruments in branching venue progression enabling them to rock out in the order of their choice."
"The game's innovative new Music Studio lets players express their musical creativity by giving them access to a full compliment of tools to create digital music from scratch, utilizing all of the instruments, and then play their compositions in the game. Music creators will also be able to share their recordings with their friends online through GHTunes(tm) where other gamers can download their unique compositions and play them."
Looks like fun times ahead. Guitar Hero World Tour is coming to the 360, PS3, Wii and PS2.