Nintendo Cuts 3DS Launch Price By $100
3DS
28th July 2011, 6:38pm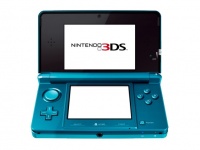 BAM! That's the sound of this news coming out of nowhere. Nintendo Australia must really be unhappy with sales of their new handheld, because a scant four months since its launch, they're wiping $100 off the RRP of $349.95.
As of August 12th, that'll be $249.95.
Wow. Some mix of underwhelming sales, the stronger Australian dollar and the threat of the Vita undercutting their price with stronger specs in six months time has made Nintendo flinch. It's pretty remarkable. The closest thing akin to this was Sony's phasing out of the $1000 60GB PS3 in favour of the $700 40GB model, and even they waited a good eight months to do it.
To their credit, though, they won't leave early adopters out in the cold. Everyone that bought the system and connects to the eShop before August 12th will become a 3DS Ambassador. This entitles them to the free download of 10 NES and 10 GBA games.
From September 1st, 10 NES games, including Super Mario Bros and The Legend of Zelda will be made available before the rest of the public get their hands on them. Upon the release of their paid versions later in the year, they can be redownloaded at no cost. This isn't a monthly rental.
Secondly, by the end of 2011, Nintendo will provide ten Game Boy Advance games, like Yoshi's Island, Mario Kart and Metroid Fusion. They will be exclusively offered to Ambassadors, with no plans to make them available to the general 3DS public in the future. It seems unlikely that the public will never be able to purchase Mario Kart off the virtual console, but for a significant time the only way you'll get your hands on it will be if you're an early adopter.
So, the deal is not insubstantial. Is it worth $100. No. Will it soothe the pain of hardcore-itis? A bit. What do you think of this move?
UPDATE: This seems to have been a simultaneous global announcement, since we've now learnt that both the US and Europe will be getting a similar price cut. Eurogamer also confirms that Nintendo Europe will be cutting the price by "around a third", and Gamespot has tweeted that Nintendo America will drop the price by $80 to US$169.99.
Reader Comments:
Posted by Master Chief 29/07/2011 7:01am
And now for that fire red one to reach our shores!