Rumour: NGP To Be Called Playstation Vita?
29th May 2011, 4:50pm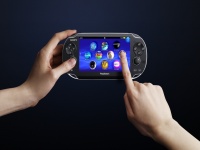 With E3 2011 fast approaching, the rumour mill is going into overdrive. We've heard some rather interesting things about the future of the Metal Gear Solid series lately, and today we've got a new rumour involving Sony's upcoming NGP handheld. We've got a couple of different sources behind this one, and they're both telling us that Sony's upcoming NGP handheld will be receiving the official name of Playstation Vita. The first one provides us with two supposedly official promotional pictures for the console, which clearly show the device displaying a PSVita logo on the front. The second contends that Sony registered a PlaystationVita.com website some time ago, through a third party company. As to whether this rumour turns out to be true or not, Sony's E3 conference will be the judge.