Valve to Support DirectX 10
PC, Xbox 360
14th March 2007, 9:41pm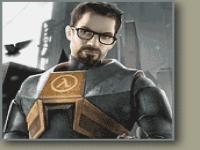 Valve have announced that both Half-Life 2: Episode Two and Team Fortress 2 will support Vista's DirectX 10 capabilities in some way. What these capabilities are remain to be seen, but Doug Lombardi over at Valve has stated in an interview with Game Informer that the games will scale all the way down to DirectX 8.
This news comes after an interview with Lombardi to GamesIndustry.biz, where he questioned Microsoft's tactics in attemping to push the PC gaming market, suggestion that "Right now it seems like it's part of the marketing push to help Vista" as well as "If it's going to use it to promote sales of Vista, that's really not good for the industry, it's good for Microsoft in the short term".
In other Valve news, one of the level designers working on Portal has stated that the game will have a four hour lifespan. The longevity of the title apparently comes in the unique way the player solves puzzles, so it'll be interesting to see how long it takes us all to get through it.
Sliced Comments: With the new release of 'Live' to Vista, this may well mean cross-platform play between the Xbox 360 counterparts, and their PC versions utilising the Microsoft Live service.