World of Warcraft Credit Cards
PC
7th May 2007, 1:29pm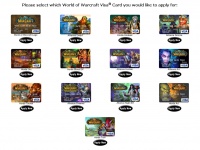 That's right, Americans can now get their very own personalised World of Warcraft VISA Credit Card.
As you purchase real-world items using the card, game time is added to your account making this Credit Card very useful for the addicts out there that can't stop playing.
There are thirteen different styles of cards to choose from, including all the races in the game, and the WoW logo (see picture).
Click Here for more information.
There is no news on whether this will be available in Australia yet.