Sliced Gaming Feature: Nintendo 3DS: eShop Hands-On
Writer:
Nick Schaedel
Posted:
7th June 2011, 7:34pm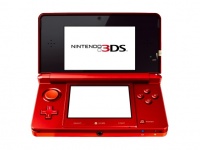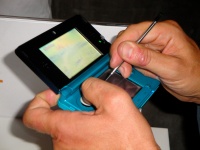 soon. Not included in this system update is the short form video service for 3D movie trailers and music videos that will be transmitted using SpotPass. Something to look forward to?
Then there's the big one – the eShop. This is definitely well done. After a bit of set up, in which you consent to notifications and viewing data, the shop loads. It's nice, clean interface, with large button icons scrolling left to right. It would be nice if you could zoom back a bit and see more content like you can on the Nintendo 3DS menu screen, but it's okay as it is. With a keyword and filter search you can easily find products you're after, and every game has an info page with an associated video you can watch before purchase (in 3D). There's also a global update button that will keep your software current.
Money is now real money, in Australian dollars – not points. I'm glad the industry has moved away from this unnecessary distraction. I think we can think Apple for proving that a dollar sign doesn't deter purchases. Available for download now for free are a Pokédex and remastered 3D version of ExciteBike. You can add upcoming titles to the watch list (and be notified when it becomes available), and sync your Club Nintendo information to accrue points. It has the facility to leave reviews for software you've downloaded or played off a game card, and displays charts of best-selling titles. Hopefully the integration of advertising will help third party developers spruik their wares to an otherwise ignorant audience.
The download is simple and fast. It shows you how many blocks it will take up (the included SD card houses an easy 13,000, and the downloads on offer today were merely two or three hundred) and your account balance. Cards will be available in retail stores by the end of June, with credit card facilities available now. I was half expecting to see Mario jumping along collecting coins, but instead it's a little animated shopping back dropping jewels or fruit into an icon. When finished, the app is wrapped up like a gift and left for you to open on the home screen.
If you hop online now, you can pick up the remastered ExciteBike in 3D for free (but only until July 7th). This is just as basic as you remember, but will likely instil a wave of nostalgia in older players. The 3D works well, but pretty soon you remember that the game just isn't that deep. While many would consider that the Pokédex is of limited appeal, offering as it does 3D renderings and very detailed move and genealogy information, there's a little bit more to it. If you enable StreetPass, you can trade Pokemon with people you pass in the street. As they say, you've gotta catch 'em all. There's also augmented reality integration ... (continued next page)
Reader Comments:
No comments have yet been added, feel free to add one by clicking below...