Sliced Gaming Feature: Watch Dogs Preview
Writer:
David Latham
Posted:
10th June 2012, 1:57pm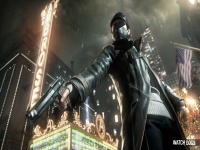 how well it works as an extra layer of gameplay.

Watch Dogs was Ubisoft's big surprise at E3 this year. We remember when they announced the first Assassin's Creed and even the first Splinter Cell and we can relate similarities from those to this new IP. We are very excited at the idea of being able to control an entire city, and hope that the developers don't make it too complicated. Expect this one in March or April 2013 for Xbox 360, Playstation 3 and PC, with possibly a unique version coming to the Wii U.


Reader Comments:
No comments have yet been added, feel free to add one by clicking below...