Sliced Gaming Feature: Indiana Jones and the Staff of Kings Developer Interview
Writer:
Nick Schaedel
Posted:
8th June 2009, 7:07pm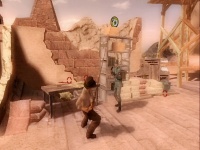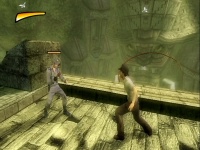 To tie in with our competition to win a copy of Indiana Jones and the Staff of Kings, we've got an interview with Producer Matt Vella about the game, and what it was like to work on the Indiana Jones franchise.
Sliced Gaming: What was your reaction when you were told you had the job, and would be working on one of entertainment's biggest and most revered franchises?
Matt Vella: I called my mom to tell her I got the job.
SG: Could you give us a bit of an outline on the story, and where it will take Indy in the game?
MV: The story takes place in 1939, after the events of the film "Indiana Jones and the Last Crusade", before the onset of WWII. It starts with a mysterious message from a colleague and sets Indy off on a globe-circling adventure in search of the legendary Staff of Moses. Some of the locations include San Francisco, Panama, Istanbul and beyond. The story is brand new, and we're extremely proud of how it pays homage to the original films while standing alone in its own right.
SG: How much puzzle-solving and adventuring is there compared to action? The films always managed balance the two ingredients just right.
We studied the films very closely before building the game and we feel that we follow a similar formula, albeit one that is made for a game. There is a nice balance between adventuring and puzzle solving, and there are plenty of different things to do in between. At points in the game you will find yourself piloting a plane, rafting down a river, exploring lost temples, and much, much more.
SG: What moves and weapons does Indy have at his disposal, and how do we perform or use them? Could you also explain the 'Hot Set' interactivity?
MV: I don't think it's any surprise that you can use the Wii Remote as a whip, but the amount of things players can do with it may be a surprise. You can disarm an enemy with it, whip an enemy on three different attach points, pull enemies toward you with it, swing across barriers with it, use it to help you solve puzzles, and more!
Aside from the whip, we spent a lot of time making the motion controls for this game do things that make sense for the action that is happening on screen. To fly a plane, you move the Wii Remote like a plane's control stick. To punch, you make punching motions. To shoot you point the Wii Remote at the screen and use the B button as the trigger. There are quite a few other moves and motions to make, but we'll leave those for gamers to enjoy on their own. To sum up the motion system, it is all is very logical and it all feels very natural, which we think will make you feel like you are Indiana Jones!
As mentioned above, we've made sure that we have a rich combat ...
(continued next page)