Sliced Gaming Feature: Portal 2 First Impressions
Writer:
Nick Schaedel
Posted:
19th April 2011, 7:51pm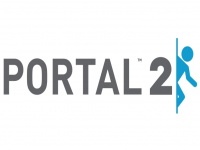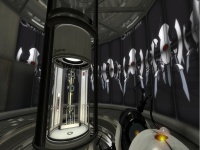 I was lucky enough to get Portal 2 early. I've played it for roughly eleven of the past twenty-four hours, and that includes a frustrating wait in pitch darkness due to a blackout across the suburb. And yes, I've finished the single player mode. So let me ease everyone's fears: Portal 2 is better that the first game in just about every way.
That's of course not to say that the first Portal was bad at all. But the team turned what was effectively an indie game adopted by Valve into a full-blown sequel. Everything is bigger and better. The graphics are beautiful, showing the crumbling Aperture laboratories in crisp, elegant detail. Great dynamic lighting showcases the destruction of the lab around you. Objects react with realistic physics as walls buckle and towers collapse. And of course, the sound is fantastic, with each puzzle element bringing a unique musical accompaniment to the background score. Wander near a laser and not only will you hear it hum, but buzzing synths join in with the music. Super smooth.
Portal has expanded to multiple platforms from the PC, and controls just as well on the PS3 as it does on your computer. The two triggers fire your portals, the square button picks up objects, and X jumps. There are admittedly many breaks as you ride the elevator between various stages, but a frequent autosave feature and roughly eight-second loads save it from becoming too tedious. If anything, your brain probably needs a moment to relax. Not yet having tried the experience on the PC, I can't say whether it is the same universally, but the first game certainly had a similar loading style.
Those ten or eleven hours are no exaggeration. The single player campaign is literally twice or possibly three times as large as the first game. It takes a really cool turn in the middle that you might or might not expect, and even if you do, you won't anticipate how it changes what you're doing, and where you're doing it. The additions to the gameplay of the first one feel organic and make for some clever puzzles. On the whole, there's nothing too taxing in the first half – you might even wonder if it's all a bit easy – but in the second half even veteran players will be stumped. The final puzzle had me struggling for a good half an hour.
As players of the first game would remember, Portal really got exciting when it broke from the mould it establishes at the start. The hints of other test subjects and eventual escalation of the GLaDOS relationship were littered across the various stages in that classic Valve way. Here, they really push it to the next level. Exploration and diligence will see dedicated players work their way into secret rooms to uncover clues and achievements ... (continued next page)
Reader Comments:
No comments have yet been added, feel free to add one by clicking below...