Sliced Gaming Feature: E3 2011 Central
Writer:
Nick Schaedel
Posted:
12th June 2011, 1:15am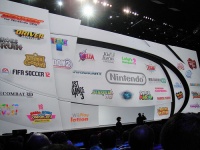 Here's your one stop shop for all our coverage of this year's E3 conference. We've even broken it down into handy sections for you. You can thank us later.
Accompanying image courtesy of PopCultureGeek.com, used under creative commons licence via Flickr.
MICROSOFT:
Microsoft Conference Live Blog
Kinect in Mass Effect 3, Ghost Recon
Ryse Announced, with a trailer
Star Wars Kinect and Kinect Fun Labs Revealed
Halo: Combat Evolved Anniversary Trailer
Gears of War 3 Trailer Has Explosions, Guns
SONY:
PlayStation Vita Potentially Region Free, No Video Out
New BioShock Title for Vita Not a Port
BioShock: Infinite Supports PlayStation Move
NINTENDO:
Nintendo's E3 2011 Conference Live Blog and Third Party Roundtable
Nintendo Reveals Wii U, with Hardware Details and Images
The Legend of Zelda In HD Teased For Wii U
Wii U Bids Farewell to Friend Codes?
Wii U Demo Videos Not Actually Running on Wii U
Star Fox 64 3D Puts You In The Cockpit
Skyward Sword Must Be Great, Or They'll End The Series
Play Tetris In 20 Different Ways On 3DS
Resident Evil Offers Revelations On 3DS
Paper Mario Brings Wafer-Thin RPG To 3DS
One Last Taste Of Ocarina of Time 3D Before Release
Slide, Soar and Swim In Mario Kart 3DS
Luigi Returns To Centre Stage In Luigi's Mansion 2
Kirby Wii Does What It Says On The Tin
Kid Icarus: Uprising Screens and Trailer
Animal Crossing 3DS Adds Swimming, And That's It
THIRD PARTIES:
EA Announces FIFA Football Club
Mass Effect 3 Won't Arrive Until March 2012
Insomniac and EA Reveal Overstrike
Ubisoft's E3 2011 Conference Live Blog
Elder Scrolls V: Skyrim Revealed
Ghost Recon Goes Back To The Future
New BioShock Infinite Teaser Video, Contest
Beyond Good and Evil 2 Will Not Appear on Current Gen
Michael J. Fox to Voice New Characters in Final BTTF Episode
Battlefield 3 Open Multiplayer Beta Coming in September
Insomniac and EA Unveil Overstrike
Whew! Go ahead and make the most of that handy list.
Reader Comments:
No comments have yet been added, feel free to add one by clicking below...