Call of Duty 3 Wii
Wii
13th July 2006, 11:05am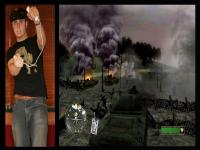 Here are a couple of shots showing people interacting with the action in
Call of Duty 3
using the Wii controller. Gives a good visual impression of how things might work in a regular game using the controller. One shot shows a guy driving a tank using it as a sort of steering wheel arrangement. The other shows a guy pointing the controller at the screen as a rifle.
Looks quite innovative, however it is hard to tell in just the shots how well it may work in practice. We'll have to wait that out until the Wii, and Call of Duty 3 appears.
Yes, you too can look like a right idiot in the comfort of your own lounge room! Of course, all the footage we see is overacted so people can understand what is being done - in reality you can just sit down and play in your lap thanks to the sensitivity.