Doom 3 BFG Edition Release Date Announced
21st June 2012, 11:37am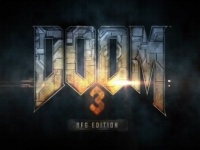 Activision today announced that Doom 3 BFG Edition will be hitting store shelves on the 16th of October for PC, Xbox 360 and Playstation 3 platforms.
The rehash of Doom 3 will include a remastered original game along with its expansion, the Resurrection of Evil, as well as a new expansion titled "The Lost Mission" which will include not one but seven new missions.
The game will have achievements and trophies for their respected platforms, and fans will be happy to hear that you can now use your torch with a weapon drawn at the same time.
The BFG edition will also come with copies of Doom and Doom 2, but it is unclear (and unlikely) that these will be remastered to the standards of Doom 3.
Sliced Comments: We can't wait. Doom is one of those games where if you're a true FPS gamer you have to play it every now and then, and this gives us another excuse while we wait for Doom 4.