Dragon Quest IV Details
DS
25th July 2008, 1:55am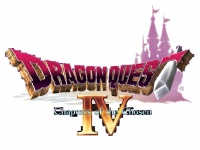 Dragon Quest is coming to DS! Part four is the first in the Zenithia Trilogy, with number five and number six following soon, the last of which has never been released outside of Japan. Redesigned to take advantage of the DS's capabilities, you can look forward to dual-screen action and even some use of the system's wireless abilities. Here's the official word on the story:
"A prestigious army captain, an adventurous princess seeking to test her skills beyond palace walls, a humble merchant aspiring to open his own shop, and two sisters who wish to avenge their father's death... These seemingly unrelated individuals will soon cross paths when fate brings them together to journey alongside you, the hero. Dive into this unique adventure, and discover an epic tale told through the experiences and emotions of characters from all walks of life."
Check out the logo, box art and some pics below.