Free Spore Creature Creator in Saturday's Paper
PC
30th July 2008, 12:13pm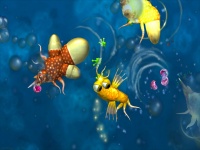 In an exclusive deal for Aussies, the full Spore Creature Creator for PC will be included for free in this Saturday's newspaper. If you purchase either the Daily Telegraph (Sydney), Herald Sun (Melbourne), or the Courier-Mail (Brisbane), you'll get a CD with the full Creature Creator enclosed.
Unfortunately those in NT, ACT, SA, TAS and WA will miss out, unless you can source a copy of the above listed newspapers through your local agency.
Rumours are that there will also be a $15 pre-order discount on the full version of Spore as well through EB Games.
Creature Creator will allow you to build wild and whacky creatures, and will allow them to roam free in the upcoming Spore sandbox game. The demo of Creature Creator has been available now for a few weeks on EA' website.
Sliced Comments: The Creature Creator is good to play with, and you can't go past a free version for the price of a local paper.