GAME - A Final Goodbye
21st June 2012, 1:15pm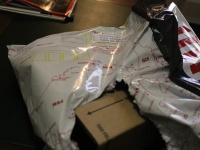 As PricewaterhouseCooper has confirmed, GAME Australia is not a viable company. Failing in $120 million of debt, the company is in the process of shutting down entirely.
The latest update on the GAME website states, "At the second meeting of creditors held on 19 June 2012 in accordance with s439A of the Corporations Act, creditors resolved to place the Company into liquidation in accordance with s439C of the Act and that Kate Warwick and Greg Hall be appointed Joint and Several Liquidators of the Company."
Administrator Kate Warwick provided a statement to Gamestop declaring the end, "in the interests of creditors, the 31 remaining Game stores are to be closed over the coming weeks and a final closing down sale has commenced with discounts of up to 60 percent available in-store and online."
60% you say? We thought we'd take the opportunity to snap up a few bargains, and here's what we grabbed for Xbox 360:
Alice: Madness Returns
Call of Juarez: The Cartel
Blackwater
Hunted: The Demon's Forge
THOR: God of Thunder
Not exactly what someone would call AAA blockbusters, but at an average of $10 each, we're not complaining. Assuming the worst, we gave GAME our $50 over the internet, but we were happily rewarded with the games in efficient time. Three of the titles were actually pre-owned which had us scared about scratched discs, but they all look fine.
Sliced Comments: This is by no means an advertisement for GAME's closing down sale, but if you want to grab a couple of bargains you might as well check it out. Seems legit.