Mass Effect 3 Delayed Until 2012
PC, Xbox 360, PS3
5th May 2011, 1:36pm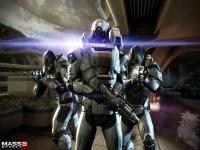 Good news, everybody! Four new Mass Effect 3 screenshots! There is, however, some bad news too. The game has been delayed until the first quarter of 2012. That is a year from now. The Executive Producer of the series, Casey Hudson, announced it on the game's Facebook page:
"Mass Effect 3 will be released in the first three months of 2012. The development team is laser focused on making sure Mass Effect 3 is the biggest, boldest and best game in the series, ensuring that it exceeds everyone's expectations."
But don't forget about that good news! Four screenshots to help the ten month wait slowly, slowly, creep by.