Mystery Case Files: MillionHeir Details
DS
20th July 2008, 1:34am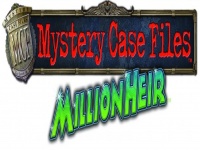 I wouldn't be surprised if you'd never heard of Mystery Case Files: MillionHeir before. Hell, I hadn't until five minutes ago when I uploaded all this media. So for my sake, please pretend to care.
So, what exactly do you do in the game? Well, it's a mystery point and click adventure for the DS. You need to spot hidden clues to find the rightful heir - the MillionHeir. Get it? The game contains a stack of intricately detailed painted scenes in which players seek out cleverly hidden items to progress through an interactive detective story. There are 12 potential heirs to examine, 30 detailed scenes to peruse and more than 1,000 hidden objects to find.
Of course, this could only be fun if you had a touch screen, which thankfully most DSs these days tend to include. The game has a multiplayer option where you can hunt for clues together or compete head-to-head. It also includes game-sharing with DS Download Play, so you don't all need the game to take part.
Here's the basic plot: Eccentric millionaire Phil T. Rich (sigh) has returned from a six month vacation across the globe on his yacht, but mysteriously disappears from his mansion and is presumed dead. Whodunnit? Exactly.
Anyway, check out the screens or video below if you're interested.
Mystery Case Files: MillionHeir Trailer - 11.5MB MOV