New map available for Call of Duty 3
Xbox 360
14th January 2007, 6:22pm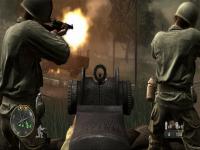 A new multiplayer map for Call of Duty 3 on Xbox 360 is now available for download on Xbox Live for Xbox Live Gold subscribers. Best of all, it's a free download. The map is titled "Champs" and takes place at Port Royal de Champs in France, and is meant to be good for close-up action.
Silver subscribers to XBL will have to wait until January 19th to be able to download the map.
Players will also have a chance to play the developers themselves on January 19th from 6am to 9am EST. Visit www.callofduty.com for further information.