New Zelda: Trailer, Artwork and Screenshots!
Wii
16th June 2010, 6:56pm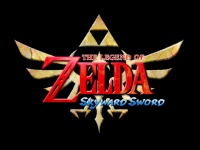 So, as the whole world knows, Nintendo revealed The Legend of Zelda: Skyward Sword to the world today. Thanks to the required use of Wii MotionPlus, sword fighting, firing the bow and even bowling bombs is now handled by gestures. All signs point to a reinvention of the overworld-dungeon-item progression too, with the titular sword helping Link jump between his home town (a floating sky world) and the darker underworld beneath the clouds.
Plus, the game mixes the look of the cel-shaded games with the more adult Twilight Princess for a result that reminds me of Minish Cap. Miyamoto says the style is based on impressionist paintings, and you can almost see his brushstrokes on the background in the screenshots below. We also have some great artwork and the trailer for download, so go nuts.
The Legend of Zelda: Skyward Sword Trailer - 18.2MB AVI
Unfortunately, Miyamoto wasn't convinced he could finish the game off in time for the holidays, so it's been scheduled in as a 2011 release. I'm thinking March.