FUEL Announced as Guinness World Record Holder
Xbox 360, PS3, PC
23rd May 2009, 6:48pm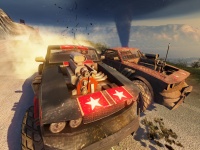 Atari today confirmed that Codemasters' upcoming free-roam racing game FUEL is the biggest game ever made, in a manner of speaking.
The official record is read as: "Largest playable area in a console game: The largest playable environment in a console game is 5,560 square miles (14,400KM Squared), and is featured in FUEL (Codemasters, 2009). The area features rivers, deserts, forests and mountains and was demonstrated at the offices of Guinness World Records, London, UK, on 20 May 2009."
That's almost 20% the size of the state of Tasmania, and although we hope the game has very little to do with those odd creatures that live down south, it's still nice to imagine how big this game will be. There is also an achievement for going from one side of the map to the other without using the helicopter. All we have to say about that particular achievement is that we are very glad there's a helicopter for transport!
FUEL is due out early next month on the Xbox 360, Playstation 3 and PC. We'll be sure to crack open a few guinnesses on the day of launch.