Nintendo Europe's 3DS Conference Live Blog
3DS
19th January 2011, 11:21pm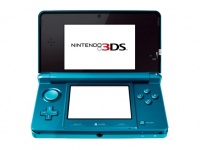 It's announcement time worldwide when it comes to the 3DS, and we're live blogging the European conference. Keep refreshing as we update the conference, hosted by English TV host Jonathan Ross.
Ross has taken the stage. Running through the specs again. Three cameras - one in front, two on the back for 3D images. SD card slot comes with a 2GB card, and is obviously expandable. Inbuilt tilt and gyroscope sensors. Telescopic stylus expands when clicked. Hit the Home button to hot swap between applications.
Nintendo has partnered with Wi-Fi providers to help push system updates and content to your system even when off or asleep with a feature called 'SpotPass'. They've also partnered with Eurosport to provide 3D sport content in Europe. Aardman Animations (creators of 'Wallace and Gromit') will be providing one minute 'Shaun The Sheep' vignettes at the end of 2011.
'StreetPass' allows sleeping 3DSs to interact, and share game information and presents when they pass in the street. A notification LED on the exterior hinge shows when you've got downloads via Wi-Fi or StreetPass. You have to opt in, though, as Nintendo respects your privacy. The system uses only one friend code, instead of game to game like with the Nintendo DS and Wii. Fantastic news - no more isolated multiplayer experiences.
A Capcom representative is on stage to talk about Super Street Fighter IV 3D Edition. You'll receive fighter figurines while playing, and if you enable StreetPass you can set one to fight others you encounter automatically, even if your system is sleeping. The game also features other versus modes, including an enhanced Wi-Fi Connection online, local play LAN, and Channel Live (spectator matches). There are thirty-five characters in the game, so anyone can find a character that will suit them.
The president of Nintendo-Europe, Satoru Shibata, has taken the stage. They're talking about what Street Fighter characters they'd play as. Now they're touting the strong support of third party developers to make sure it appeals to hardcore and casual gamers: Nintendogs to Street Fighter.
President and CEO of Ubisoft, Yves Guillemot, is up next. He says his team was amazed at the 'endless possibilities' of the 3DS when they saw the first prototypes in Japan. They expect to have eight games out in the launch period, including Rayman 3D, Tom Clancy's Splinter Cell 3D, Combat of Giants: Dinosaurs 3D (StreetPass dragon fights), Asphalt 3D, Rabbids 3D, Ghost Recon: Shadow Wars and more.
Mr Enomoto and Mr Hatsumi of Konami are up to talk about Pro Evolution Soccer, a launch title for the system. A trailer shows off soccer highlights with melodramatic opera music and Engrish titles - "Bask in the adulation"! There's a new camera angle called Player's View. In the past, it felt like you were watching a game on TV. Now it feels like you're on the pitch, as the camera is right behind the player. It's the first 3D football game ever.
Yosuke Hayashi, head of Team Ninja and producer of Dead or Alive: Dimensions, is here. The series dates back to 1996 (1998 in Europe), but for the last five years has been laying low. In this time, they have been planning a handheld edition. Due to the absence of a suitable console, the plans did not become reality until now. A trailer plays - pretty impressive graphics for a fighting game. It's apparently a 'best-of' version of Dead or Alive, featuring the highlights of the series. Apparently the franchise's 'interesting characters' are returning with attitude. Online play, local wireless, co-op mode and StreetPass supported. Experience 3D fighting games in 3D.
Time for the Nintendo games - Laurent Fischer. PilotWings is back and based on the Wii Sports Resort island. Casually fly around, or complete challenges. Nintendogs + cats introduces the latter species. Animals vary in body size, shape and leg length, as well as fur colours, so two animals of the same breed look different. Using the camera, the pets will recognise you, but cower when confronted by a stranger.
Steel Diver is a submarine game that uses the built in gyroscope. Ocarina of Time is remastered with 3D graphics. Kid Icarus: Uprising is 'completely different' to the original game. Preloaded software includes a fitness activity log. You can take pictures to make Miis using the cameras, with software detecting your face and approximating your features. There's also augmented reality using tabletop cards with superimposed 3D images. The FaceRaiders game built in uses your Miis.
A later software update will bring an internet browser and shop channel, but it's not built in from day one. Trailer time: Nintendogs + cats, Steel Diver, PES 2011 3D, Super Street Fighter, Super Monkey Ball 3D, Resident Evil Revelations, Combat of Giants, Dead or Alive Dimensions, Rabbids 3D (a platformer featuring the bunnies), Ghost Recon: Shadow Wars, Samurai Warriors: Chronicles, Driver: Renegade, Lego Star Wars III: Clone Wars, Starfox 64 3D, Ocarina of Time 3D, Resident Evil: Mercenaries, Splinter Cell 3D, Asphalt 3D, The Sims 3, Ridge Racer 3D, Metal Gear Solid Snake Eater, Animal Crossing (a temporary name), Pilotwings Resort, Kid Icarus Uprising. Something for everyone.
When can we get it? March 25th in Europe. They refused to give a price, as apparently retailers already know the trade price and it's up to them to set theirs. Between launch and end of June, there will be more than twenty-five games available. Jonathan Ross just eagerly read Shibata's lines, to the amusement of the audience. Ross quips he was excited to temporarily be the head of Nintendo Europe. Shibata read them again, affirming that in February the company will tour with systems so the public can try them out. And with that, the presentation is over. The lucky attendees get to go and have a play on the show floor.
The European release date is March 25th, and should indicate roughly when we can expect it here. Nintendo Australia likes to launch systems on Thursdays (the Wii, original DS, DS Lite, DSi, DSi XL did), so perhaps you should mark March 24th in your calendars. That's a few days before the US's March 27th, which could suggest Thursday March 31st is more likely, though the DS Lite and DSi both made it to our shores before those of both Europe and America. Hell, the original DS was in Australian hands for nearly three weeks before it was released in Europe.
Of course, stay tuned to Sliced Gaming for the official Australian announcement when it happens (soon).