Paxton Fettel Available In F.E.A.R Single Player
PC, Xbox 360, PS3
21st February 2011, 8:29pm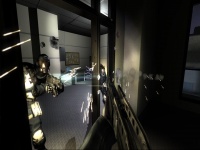 F.E.A.R. 3's Paxton Fettel has ditched his brother, Point Man, and is single and ready to mingle in F.E.A.R. 3's single player mode. In honour of Valentine's Day, Warner Bros. Interactive Entertainment announces that Paxton Fettel is available as a playable character in the single player campaign and will be unlocked at the end of each level after first playing through a level as Point Man.

Paxton Fettel offers a unique single player experience focused on his supernatural abilities giving players a new way to play through the level in a way that's different from Point Man's enhanced super soldier abilities. In the single player campaign, Fettel will wield his telekinetic abilities to suspend, possess, stun or crush enemies. Giving players a choice in who they play as in single player offers additional gameplay value and enables players to re-play a level using different powers and tactics.

Set to release on the Xbox 360, PS3, and Windows PC in May, F.E.A.R. 3 is a heart-pounding paranormal first person shooter unleashing intense combat, compelling narrative and co-op play that evolves the franchise.