Resistance 2 New Screenshots
PS3
2nd July 2008, 9:23am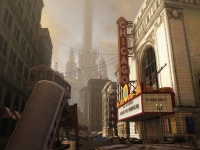 On the official Sony Playstation blog, Insomniac Games has released two new screenshots for the upcoming Resistance 2 for Playstation 3. One shows a massive Leviathon, as it smashes apart the city. You can also see some of the highly detailed city landscape you'll find in the game.
You can view further info, a video, and screenshots over at the official Resistance 2 website
The game is expected to be released in the 3rd quarter of this year.