Say Hello To The New Xbox Dashboard On December 6th
Xbox 360
23rd November 2011, 9:59am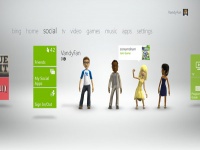 They've done it before, and they're doing it again. On December 6th, Microsoft will be releasing a brand new dashboard for the Xbox 360 via system update. The system will take advantage of Kinect so you can gesture and speak your way to just about every function of the console. We're that little bit closer to that time when we can speak at our house and our house will do things for us.
Plus, the system will get new integrated apps for TV, film, music and sports, though these will vary by region. It wouldn't seem too unlikely, for instance, that we'll get an ABC iView app - especially given the PS3 already has one. And on a cool note for gamers, your game saves and LIVE profile will now be stored in the cloud, and Beacons (an easier way to see what your friends are doing) and Facebook Sharing made the cut too.
Save up your download quota for the start of December, because this all sounds pretty rad. Pics below.