Skate It Details
Wii
20th July 2008, 6:38pm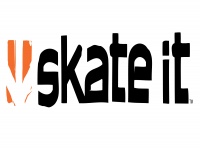 Skate It is the version of Skate, last year's successful reinvention of the rather stale skateboarding genre, coming to Nintendo's systems. The revolution was through the FlickIt controls, which this year transition to the Wii and DS with both the Wii Remote and stylus. Those of you with a Wii Balance Board can take it all to a whole new level by using it to skate, manual and pull off other authentic moves.
A series of freak natural disasters has left the city of San Vanelona deserted and in ruins. Skate It brings gamers back to the former skateboarding mecca where fallen structures, debris and rubble, combined with zero pedestrian traffic becomes the perfect formula for wicked skate lines. You'll face off against pros, get worked in Hall of Meat and rake in sponsorships on the way to becoming Thrasher Magazine's Skater of the Year. You'll also be able to venture out to iconic cities around the world and own some of skateboarding's most epic spots.
You'll also be able to make your own levels by moving items around an environment to pull of some great stunts. New objects are unlocked as you progress through the game and win challenges. Of course, multiplayer returns, and on the DS (but not the Wii...?) you'll be able to hit the net for races against friends, leaderboards and the ability to share your own customised levels with other players.
Check out some screenshots and art below.