Square-Enix Now PC Compatible =Updated=
PS3, Xbox 360, PC
24th July 2008, 6:15pm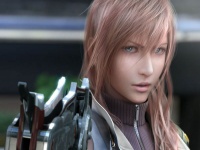 One of the less reported facts about FFXIII is that Square-Enix are bringing it to not just the 360, but to the PC as well. The Japanese game publisher officially announced that Final Fantasy XIII is coming to the PlayStation 3, Xbox 360 (in Europe and North America only) and PC. Apparently it's part of their new strategy which will allow all their new internally developed games to become multiplatform, thanks to the PC based Crystal Tools development environment.

"The content will be the same on all platforms," said Final Fantasy XIII Producer Yoshinori Kitase. "However, we have yet to determine how many discs will be required for the 360 version. We'll have to consider the differences between formats. Currently the game is being built on PC, where it's actually functional. We're still focusing on making it work on PS3, so it's difficult to know how long the process of taking it to 360 will take. Now that we're developing on a PC base, the pace is going a bit faster. We haven't introduced new footage of the game, but we should be able to show something new in the near future."
Update: Square-Enix have now commented directly on this piece of news by saying "We have no current plans to release Final Fantasy XIII for PCs". It seems some mistranslation and possible stretching of a statement is to blame for the false report. All they SE really confirmed is that they're developing all their new games on PCs, not releasing them for PC.