Trauma Center: Under The Knife 2 Details
DS
20th July 2008, 6:08pm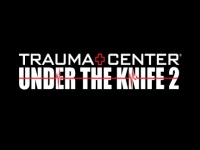 The first Trauma Center game for DS was heralded as an original, and damn challenging addition to the system's library, so we can't help but look forward to its sequel with the same degree of morbid fascination.
Story-wise, GUILT is no more. Dr. Derek Stiles and Nurse Angie Thompson faced humanity's greatest threat and triumphed. Now, in the aftermath, they find themselves in unknown territory, forced to deal with the disastrous consequences of the killer virus. You'll join them as they scramble to address questions left unanswered and put an end to the mystery behind the disease.
Yep, this is the true sequel to Under The Knife – the Wii's Second Opinion doesn't really count – with a brand new story, an easy play mode (phew!), improved tool utility and clearer directions, it sounds like this should be a better game than the first in nearly every regard. Keep checking the Wii's Nintendo Channel for a downloadable demo of the DS game, and in the meantime admire some art, screens, the logo and a trailer.
Trauma Center: Under The Knife 2 Trailer - 20.7MB WMV