Win FIFA 10 & Tiger Woods 10!
Xbox 360
15th March 2010, 11:32am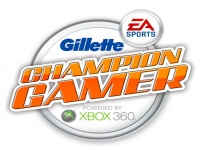 Sliced Gaming, EA and Gillette have teamed up to offer a great prize pack in celebration of the 'Gillette EA Sports Champion Gamer on Xbox 360' tournament.
From today, March 15th, you can register in-game across the range of EA Sports' '10' games (and including Fight Night Round 4) to go head to head against your fellow players for some cool prizes. Click here for more details about the tournaments, including terms and conditions. The more you play, the more chances you have to win.
Sliced Gaming readers have the chance to win a pack containing FIFA 10 and Tiger Woods 10, as well as the brand new Fusion Gamer razor, Gillette Fusion Hydra Gel Pure & Sensitive, and Shave Care range. Our marketing materials tells us to
"Get in the game with the new Gillette Fusion Gamer razor, designed to provide total comfort with less skin irritation, even against the grain. The latest addition to the Fusion family features a 5 blade suspension system that adjusts to the contours of your face for total comfort. Style-seekers will be impressed by the cool, fresh look that exudes a premium, hi-tech feel."
So here's all you have to do. Send me an email (click my name below) with your answer to this question: What's the most shameful hair style you've shown off? Could be facial hair or head hair - we just want to laugh at your unfortunate fashion sense. Our best pick wins the pack. It's pretty simple.
Terms & Conditions Of Entry:
1. All entries will be deemed to represent an acceptance of the Terms & Conditions Of Entry by the entrant.
2. All entries must be received by 11:59pm South Australian Standard Time, Monday 22/03/2010. Any entries received after this time will be deemed invalid and will not be considered when judging the competition.
3. The prize consists of one copy of FIFA 10 and one copy of Tiger Woods PGA Tour 10 for Xbox 360, and one Fusion Gamer razor, one Gillette Fusion Hydra Gel Pure & Sensitive, and assorted Shave Care range products. The prize will be awarded to the entrant with the best response to the above question as decided by the Sliced Gaming staff.
4. Multiple entries are not permitted.
5. Only Australian residents are permitted to enter.
6. There is NO term six.
7. No Sliced Gaming writer, any of their direct family or other affiliates of the site are permitted to enter. Forum moderators that are not writers are still eligible.
7. Winners will be confirmed by email and will be notified of their prize.
8. Sliced Gaming reserves the right to deem any entry invalid, change the prize or conditions of entry, or cancel the competition without notice.
9. Sliced Gaming's decision, in any aspect of the competition, is non-negotiable. Sliced Gaming will not be held liable for any damages or otherwise caused by entering this competition, or by the prize awarded to the winner.