Assassin's Creed Preview
Writer:
David Latham
»
Blog
Posted:
30th Sep, 2006
Publisher:
Ubisoft
Website:
http://www.assassinscreed.com/
Release:
1st Quarter, 2007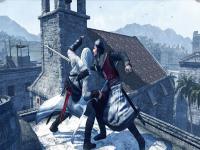 enjoyable and challenging option, perhaps something you'll get to achieve later in the game when you learn new moves and get new weapons/armour.
Stealth is a large part of Assassin's Creed, being an assassin and all – but Ubisoft have taken a different direction to the standard Splinter Cell type stealth. They no longer want you to be hiding in shadows; they want you to hide effectively in crowds. To do this, you may need to disguise yourself as a member of certain religious groups and join their march as they walk through the town. However, in order for them to accept you as one of them, you'll have to complete some quests for them beforehand. Gaining respect from groups within the city will allow you to better your stealth as you approach your target of assassination.
The graphical detail of Assassin's Creed really boosts the next generation of gaming to a new level. There's dozens of people on screen at once, and they all look almost real. The environments look superb and are fully interactive, but we're not sure to what extent the interaction will be. Assassin's Creed is definitely shaping to be one of the best looking games of Q1 2007.
In conclusion, Assassin's Creed is a must buy for any PS3/Xbox 360 owners. We can't judge what console it will look or handle better on, but we can say it will be well worth your money. The interactivity and gameplay seems almost endless, like GTA on steroids in medieval times, with Sam Fisher's skills. Expect much more information from Sliced Gaming on Assassin's Creed as the game comes nearer to its Q1 2007 release date.