Animal Crossing: Wild World Preview
Writer:
Nick Schaedel
»
Blog
Posted:
4th Oct, 2005
Publisher:
Nintendo
Developer:
Nintendo
Release:
TBA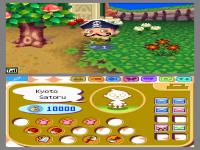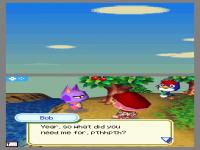 Animal Crossing
for the Gamecube was a surprise hit for Nintendo. It was really just a port of the sequel to a game that was on the N64 only in Japan, so presumably they weren't expecting much. Luckily for all of us, it turned out to be an involving title that sucked away hours of time. Even though we've all struggled to rebuild them, our lives will once again be focussed on a tiny digital village in the game's sequel:
Animal Crossing: Wild World
.
Basically, in the world of
Animal Crossing
you're objective is to live. You just live life, relax and do what you want. You can talk to villagers, fish in the river or ocean, decorate your house, chop down and plant trees, catch bugs, dig up fossils, and much more. The only real aim of the game is to earn enough money to pay off the loan on your house, and then expand the house until it is the envy of everyone in your neighbourhood. It's like taking the best bits (in my opinion) of
The Sims
and
Harvest Moon
and combining in a package where every single day brings something new - it uses the inbuilt DS calendar.
That should all be familiar for those that played the original. Fear not - there is a hell of a lot of new, cool stuff crammed into this version, so brace yourself as I go through all the details. For starters, in the original your house was positioned automatically in a compound with three others. All this has changed, and you can put your house in whatever scenic position you choose. Also, there'll be just the one house for all four of the people that can live in your village, so you'll have to agree on the decor of your rooms. Let the arguments begin!
When you first arrive (by car, apparently), you'll enter in your name, the name of the village (if you're the first person on the cartridge) and little things like your birthday. Hopefully we'll also get a hemisphere choice, as one of the few problems with the first one was even though the date was correct, as it was made in the northern hemisphere, you got snow in January. It shouldn't be hard to do, so I hope Nintendo includes the choice.
Each day in the village is different, and the villagers (animals, of course) expect you to pay a visit regularly. If you don't arrive for months, your mailbox will be full of accusatory letters, and all your favourite critters will have moved out. Oh, and there'll be weeds everywhere. You'll also discover that your little friends are quite the party....animals (damn, walked into that one), and will celebrate New Year's Eve, Toy Day (aka Christmas), other imaginary festivals and your birthday.
The beauty of the first game was that each village was different. Each one was guaranteed to have the basics, but the location of your friend's post office was completely different to the location of yours. ...
(continued next page)