Mario & Luigi: Partners in Time Preview
Writer:
Nick Schaedel
»
Blog
Posted:
6th Feb, 2006
Publisher:
Nintendo
Developer:
AlphaDream
Release:
TBA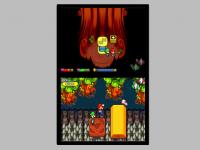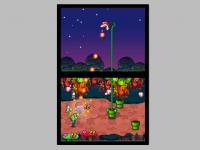 The Mario RPG outings always maintain the Mario staples - head-bonking, jumping, platforming etc., while getting rid of the tedious RPG staples, creating a fun and often hilarious game that's much more accessible than true role-playing games. There are no random battles, with your enemies visible on screen, and you take full control in battles; there are no boring battles here.
In
Mario & Luigi: Partners In Time
, you control Mario and Luigi together with (eventually) younger versions of themselves. You can make each character jump by hitting their button - A for Mario, B for Luigi, X for Baby Mario and Y for Baby Luigi. This button is also used to select options when in battle. Veterans of
Mario & Luigi: Superstar Saga
will recognise the principles. This is a great addition, and one that always keeps things interesting. You'll soon discover that the brother you're not controlling (you can switch back and forth) tags right behind you, so when it comes to jumping over gaps or hazards, you need to remember to hit both jump buttons, otherwise you won't make it.
The babies are involved thanks to a time travelling plotline. These time warps appear in the land, and can be used to switch between past and present versions of the land. The world, by the way, is shown room by room on a map on the top screen. Arrows blink to let you know if your view moving, as the one aspect of the DS's functionality that developer AlphaDream have focussed on are the two screens. There's no touchpad support, and no microphone use, but the dual screens come into play with intriguing puzzles that involve using both the older and younger Mario brothers separate from each other. Some enemies also hide on the top screen in battles, and your looping Bros. Attacks will often take you sky high.
The game looks great. There's no discernable difference between the art styles of
Partners In Time
and
Superstar Saga
, except for a cleanliness and more clear look to the game on the bright DS screens. My play test started me off at the beginning of the game, so with substantial amounts of text to wade through, I wasn't able to test out the later parts of the game. It was obviously a complete copy of the game, and not a demo card. That being said, the references to Nintendo franchises, in-jokes and general humour of names and speech is back, which most should find extremely comforting.
One of the new additions to the game is a talking suitcase called Stuffwell, who handles your items and also gives you tips at the beginning of the game. Apparently this hand-holding continues further on into the game, but as I remembered skills in the demo, the case didn't seem too infuriating. Its tips were shown on the top screen as frames, comic book style, which was neat.
Battles are fun, since the ability to jump (using the appropriate button for ...
(continued next page)