We Love Golf! Preview
Writer:
R J Gaffney
»
Blog
Posted:
23rd Apr, 2008
Publisher:
Capcom
Developer:
Camelot
Release:
TBA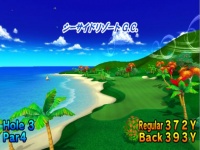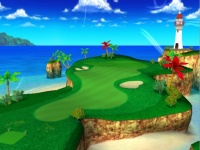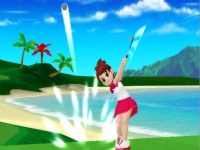 My time spent with
We Love Golf!
was short. While I would have liked to perfect my swing a leg injury prevented me from standing for too long. I could have tried it sitting down, but then I would have had no excuse for sucking.
We Love Golf! continues the Japanese obsession with hitting small balls with large metal sticks while young girls scream and giggle and dance. It's made by Capcom, so it also includes a fair few easter eggs, not the least of which are the players you will be competing against on the fake score boards. Ever wanted to beat Ryu or Leon Kennedy at a game of golf?
In addition to the big eyed anime girls and boys you can select from, you can unlock additional outfits, such as Chun-Li Apollo Justice, Jill Valentine and even Arthur from Ghouls and Ghosts. You can also use your Mii. Personally, I'd rather watch Miss Valentine...
While presentation can turn the boring into the sublime, it cannot make a bad game good. I don't know much about golf games, having played very few of them, but I can say that We Love Golf! intrigues me, if for no other reason than the bizarre and surprisingly intuitive controls.
The menu in We Love Golf! is pretty sweet. You point at the screen to select a club, fiddle with the settings, check the wind and whatnot. You point up at the ceiling for a bird's eye view of the map, and can adjust your swing accordingly. When you want to swing, you hold it face down, and press either A or B to swing or practice, respectively. You can also add fade or draw to the stroke by twisting the Wii remote, and top and bottom spin using the 1 and 2 buttons.
The most crucial part of the game is also the most difficult. To swing the golf club, you slowly swing the remote backward. Slowly being the key word. Gently, tentatively, as if pulling back too quick could jar the spine of a vulnerable infant. When you've reached the desired power, you hold it, and the game will begin the backward swing. When it lines up at the tee, you give a sharp jerk in the opposite direction to hit the ball. You'll either love it or hate it. At first, I didn't get it. But as I kept trying and, keeping in mind the technological shotcomings of the Wii remote, it actually makes sense.
But it's not easy, especially at first. In fact, it's downright frustrating, but I will say this: I found it more enjoyable than the golf game on the Wii Sports disc. That wasn't fun for me. That was like trying to eat a hamburger with chopsticks. Greasy chopsticks. That were broken.
One new feature I did like in We Love Golf! was the caddy system. Your caddy will shout out helpful hints from the Wii ... (continued next page)