Guitar Hero: World Tour Preview
Writer:
R J Gaffney
»
Blog
Posted:
29th Sep, 2008
Publisher:
Activision
Developer:
Activision
Release:
TBA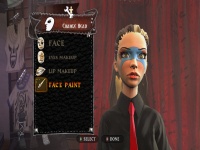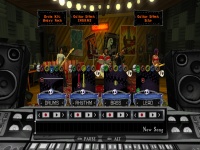 I spent the weekend playing Guitar Hero: Aerosmith and Mega Man 9, and strangely enough got bored of Aerosmith in short order, even though I had never played it before. Going in to the preview, I felt that the series had done its run for me, and that pretending to be a rockstar was a dream I had lived and could safely tuck away.
I was wrong.
The new instruments change everything. It not only adds something else to the game, but it creates a dynamic among the people playing that is completely absent from the glory-hogging days of being a solo Guitar Hero.
Firstly, the eponymous guitar. Changes have been made, the smallest of which are the larger strum bar, whammy bar and guitar body, upon which there is now a button for star power (though tilting to activate star power still works) and a knob to use as a d-pad and home/guide button. The neck is still detachable for easy storage, and the fret bar now contains a second set of inputs, a digital slide bar that, quite frankly, scares the hell out of me.
The new strum bar allows you to run your finger over the notes to play new a new kind of semi-transparent notes. It adds a new element to the game, but it was one that irritated me more than anything else. Of course, I only used it twice, so further use may temper my initial dislike.
The microphone works just like in Singstar, so girls and effeminate men will feel right at home. The note chart moves across the top of the screen with the words scrolling beneath a set of bars that rise and fall with the notes required. The microphone is wired, though the guitar and drums are not.
The biggest addition, figuratively and literally, is the drum set. Three drums, two symbols and a pedal. These six little things completely did my head in. The five drums work as individual notes, with a purple bar on the note chart telling you when to hit the pedal. I had no drumming experience prior to playing World Tour, and while I managed to get the hang of it somewhat (albeit only playing on the medium difficulty) it is definitely something I would like to do again, though my calf muscles would probably like to sit it out.
There is plenty of variety in the track list. From Jimi Hendrix to Bon Jovi, The Living End to...Linkin Park? Each perusal of the track list (which was considerable [without even counting the song creation tool]) revealed another track I was eager to play.
The customisation in World Tour is insane. Neversoft, famous for the Tony Hawk series, have raised the bar higher than ever. With the ability to custom create not only your own character, but also to ... (continued next page)