Left 4 Dead Preview
Writer:
R J Gaffney
»
Blog
Posted:
13th Nov, 2008
Publisher:
Valve Corporation
Developer:
Turtle Rock Studios/Valve Corporation
Release:
TBA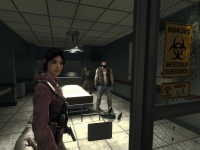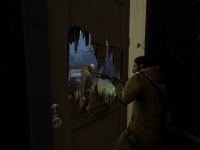 I've been meaning to write this for a few days, but the problem is I keep playing the demo "just one more time".

It's only the same two levels over and over again, each of them barely five minutes long, if that, but I just can't stop.

The Left 4 Dead demo was originally only available to those who had already pre-purchased the full game via Steam. It is kind of ironic that the thing designed to make you part money with the game required you to part with money to play it, but Valve's track record (as long and sparse between releases it may be) is a damn solid one. The demo is now available to all, and I strongly suggest you all check it out. For 360 owners out there, the demo should now also be live on Xbox Live.

Left 4 Dead (L4D) continues Valve's record for kicking all sorts of ass. Simply put, it is a four player co-op title where you and three other friends (or CPU controlled characters if you need to fill the ranks) have to make your way through various scenarios after a zombie apocalypse.

Standard fare for zombie survival so far, but the beauty behind L4D is the Director, an AI that will randomise the map each time you play it. The Director will move where the good weapons are hidden, where the extra health packs are found and where the boss zombies will spawn. It will even randomise whether or not zombies burst through weak walls and rush you from behind, ensuring that you can't simply camp the scary bits. In fact, if you do try and play it safe, the Director will get wise to your shenanigans and rush you with a horde of zombies, just to get you moving again.

L4D is full of zombies, although in this case they lean more toward the 28 Days Later rager rather than the original Romero shuffling dead. A horde of undead will rush and claw you within seconds, instead of simply shuffling forward, arms outstretched. These zombies go down easily enough, only becoming frightening when the horde swarms as one, like when someone accidentally triggers a car alarm in the street and every zombie within the map is alerted to the player's presence, causing pants to wet and bowels to empty.

But L4D isn't just run and gun through the maps, trying to escape the hoard. It is very much a co-op title, with a unique help system. When a player loses all their health they collapse and a countdown begins. Any available zombies will stand around putting the boot in, with every blow taking extra seconds off the clock of the downed survivor, until either the countdown ends, resulting in death, or a friend is able to help the friend to their feet. If the survivor doesn't and winds up dead, they can be found later on in the map in a spare locked room and be rescued by a fellow survivor. If all players go down at once, the game ends, since there's no one left to help them up. Once revived, the victim will move more slowly and will eventually bleed out until, at near death, they are basically crippled.

Rescuers can then heal themselves or their fellow survivors, sharing medkits and handing one another pain pills, but medkits take time to apply and the user will need to be defended by allies while they treat their wounds. Pain pills to give survivors a temporary health boost to speed them up, as wounded survivors move more slowly, but the effect will only last for a short while. This requires everyone to work as a team, not only in offence, but in defence and item management. This is hard enough against standard zombie hordes without counting the friendly fire (quite common in the chaos of a mad zombie rush).

And then there are the boss zombies.

There is the Boomer, a fat shuffling oaf who vomits everywhere, unleashing zombie pheromones so potent that, if you get slimed, you will attract all the other zombies in the area. The Hunter is a fast and nasty zombie that can leap huge distances and will tackle you to the ground, leaving you helpless until a friend can rescue you or, of course, you get your guts ripped out by said Hunter. The Witch is a sobbing wench who, if you don't startle her, will leave you alone. If you shine your flashlight on her or accidentally shoot her, she will go into a rage and claw your guts out with a ...
(continued next page)