Assassin's Creed Preview
Writer:
David Latham
»
Blog
Posted:
30th Sep, 2006
Publisher:
Ubisoft
Website:
http://www.assassinscreed.com/
Release:
1st Quarter, 2007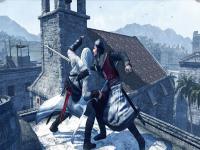 From the developers of Prince of Persia & Splinter Cell comes a new title for the PS3 and Xbox 360, Assassin's Creed. The E3 2006 trailer blew us away and from what we can tell from the gameplay footage, Assassin's Creed is possibly one of the best games due out in the first half of 2007.
In a fully interactive environment, you'll control a "disgraced master assassin" (as Ubisoft delicately imply) set out to reap havoc on ancient cities that have actually been recreated based on factual historical evidence.
"When our game begins, Richard the Lionheart has just recaptured the port city of Acre from occupying Saracens. With a base of operations established, the Crusaders prepare to march south. Their true target is JERUSALEM – which they intend to recapture in the name of the Church. However, SALADIN, leader of the Saracen Army, currently rules Jerusalem. Stinging from his army's defeat at Acre, he will now allow Richard to humiliate him again. The Saracens are massing at the ruins of Fortress Arsuf, intending to ambush the Crusaders and prevent them from reaching Jerusalem.

These war maneuvers have left the rest of the Holy Land wide open. While Richard and Saladin battle one another, the men left to govern in their stead have begun taking advantage of their newfound positions of power. Exploiting, manipulation, and provocation rule the day. It is into this chaotic mess our hero now finds himself thrust. He is ordered to assassinate those most active in their exploitation.

And so Altair begins his missions." – Excerpt from the official Ubisoft Synopsis.
With the experience of both the Prince of Persia games and the beloved Splinter Cell series, you can only imagine the endless gameplay possibilities that await us. The recently released gameplay footage shows Altair climbing the ancient cities walls, and flying around the rooftops like a monkey in a forest, all fully controllable and perfectly designed. The main objective for the game seems to be taking out different members of certain groups in order to work your way back up through the Assassin's order. When you assassinate someone, the game suddenly turns deadly, leaving you with very little time to make split second decisions on how to escape, or if you want to fight.
The combat in the game is very similar to movie style fighting when it is one person versus many. You'll be standing in the middle with your sword out, while gradually they jump at you 1 by 1. It's all realistic so you can't take too many blows, in fact, if you take one blow to the head, you're dead. We can only imagine the possibilities of combat once you learn the ropes. Going defensive is the safe option, but offensive battle stances seems like a much more ... (continued next page)